I find myself rolling my eyes a bit when I see so-called "best multitasking beauty products" in magazine articles. If I had a dollar for every time Canmake Cream Cheek or NARS The Multiple is mentioned, I wouldn't need a job. Eternal repetitiveness aside, how many people honestly use these dual-use lip and cheek products on both their lips and cheeks? Certainly not me! Some are also beyond ridiculous. I mean I could use that black eyeliner on my lips like they proudly boast, but why on earth would I do that? And I'm sure most people didn't know that Vaseline is not just a lubricant. (Note the sarcasm.)
So here are my top 5 beauty products that I actually do use to multitask.
Naturie Hatomugi Skin Conditioning Gel is a brilliant one-pot wonder for those who want maximum hydration without grease or stickiness, a lightweight feel, and an instant soothing effect. I slather it on both my face and body. The brand says this is a serum gel, but it leaves my skin feeling so perfectly quenched and plumped that I don't need to follow up with anything else. In the summer, I like to keep it in the fridge for a bonus cooling effect. I raved about this before over on the main site — do read the full review if you haven't already! The gel costs less than ¥900 in Japan and it comes in a generous 180g tub.
This is a cream I reach for if I don't have the time for various potions and unguents. TRANSINO Whitening CC Cream SPF50+ PA++++ claims to do the job of 5 products, having the effects of a dark-spot treating serum, lightweight moisturiser, sunscreen, primer, and colour corrector. And that is exactly what it does on my relatively normal skin. I just use this after a quick spritz with a hydrating mist. Its texture is lightweight and the coverage is sheer, so I can slap it on all over generously without feeling heavy or looking unnatural. It also features the same blend of active key ingredients as Transino's skincare products so I don't feel as though I'm sacrificing my 'anti-discolouration precautions'.
Hair wax is not normally a product you'd consider to be a multi-tasker, but The Product Hair Wax from Kokobuy is certainly one! This shea-butter wax balm contains just 5 ingredients and they're 100% certified organic and sustainably wildcrafted. Melt a small amount between fingertips and work into the ends of hair, giving moisture, shine and natural hold. It also works marvellously for on-the-spot relief for dry lips or for dry, rough skin anywhere.
This is one of my most-used beauty products when I'm away from home: Misao Fermentation Beauty Cleansing Serum. I've used this (and its previous formula) for years — it's my all-in-one skincare solution for travelling without bringing various tubes and bottles and jars. If I need to save time and/or space, this and a tinted SPF are all I need! It melts away makeup and cleanses the skin well, and it leaves my normal skin feeling so soft, smooth, and perfectly moisturised afterwards that I don't feel I need anything else. Containing boatloads of beneficial ingredients, I feel comfortable with using it to replace all the steps for a few days straight.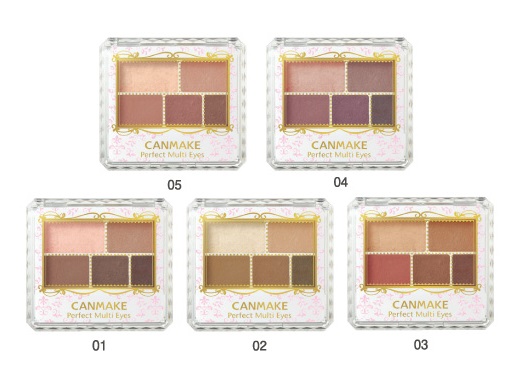 There're myriad of palettes out there, but Canmake Perfect Multi Eyes lends itself particularly well to being ultra-travel and user-friendly. The credit card-sized palette does it all from eyeshadows to brows, and even eyeliner. The natural shades are blendable and have just the right amount of pigment that makes them absolutely foolproof. It's also cheap as chips — RRP is just ¥780. Its ultra-compact size and affordable price make it perfect for tossing in my small portable makeup bag.