In the last few years, a lot of Western brands have attempted to be more environmental by making their packaging refillable. They come in packaging that when the product runs out, you can just buy what's inside without needing to buy a whole new bottle.
In Japan, refillable products have been around for decades — reuse-and-refill isn't a new consumer trend. You might not know, however, that Japanese refillable beauty and hygiene products have almost nothing to do with sustainable living. After all, Japan has one of the highest per-capita plastic consumption rates in the world.
Background on Japanese Refills
Refills were introduced in Japan in the 70s as a response to inflation and resource shortages caused by skyrocketing oil prices. Instead of raising prices or sacrificing quality, Chifure began to release refills instead to maintain prices and save limited resources. Other J-beauty brands soon followed suit. They initially came in plastic tubes — refill pouches weren't introduced till the early 90s.
Nowadays in Japan, refills are part of almost everyone's daily life due to very limited landfill space. Garbage disposal in Japan is carried out at the municipal level. That means that each city, town, and district has a completely different system that is not error-forgiving. (Police get involved in some cases.) Tokyo alone has 23 wards and each has its own extensive system. In my friend's district, for example, most plastic containers (as well as metal and glass bottles) are collected just twice a month. Mine, on the other hand, is twice a week! Garbage collects quickly in small living spaces.
The most practical (and the only viable) solution is to reuse the same packaging for products that need frequent replacement and refill contents. This is why even dirt-cheap pens are refillable in Japan.
You can either keep buying bottles that are destined to take up precious room in your bins or reuse them and buy the refill pouches (that take up virtually no space when empty). The choice is obvious. Being more environmental and saving a little money are side benefits. According to official Japanese numbers, 84% of plastic collected in 2018 was recycled.
Nearly all Japanese drugstore products that are in liquid form are available in refill pouches or jumbo-sized refill bottles. Cleansing oils, moisturisers, hand soaps, shampoos, fabric softeners — the list goes on.
Two notable exceptions for skincare products are beauty serums and sunscreens. Generally speaking, their formulations aren't compatible with refill formats that require decanting.
Department store skin care brands don't usually have refills available either save for certain products in fancier packaging that have a removable inner container.
Refills come in these formats in Japan:
This is the most common. They are stocked on the shelves in Japan right next to the standard packaging. Pouches are used for any content that can be poured or squeezed out.
These plastic pouches are intended to be decanted into the original source packaging, often a plastic bottle. They often contain slightly less product than the standard bottle for extra room to avoid overflow. Most are tear-open or have a twist-off, non-recloseable cap but some brands do make large-sized ones with recloseable screw caps for multiple refills.
Generally speaking, the refill pouch is about ¥150 cheaper than the original source packaging.
These 500ml–1,500ml sized plastic bottles are often used for hand soaps, dish detergents, and other household products with pump dispensers. The jumbo-sized versions are often only available online or in certain larger locations.
They are nowhere as popular as the refill pouches.
Some skincare products have a removable inner container that pops out. You insert the new refill and snap it into place. No decanting means this is by far the most hygienic and safest out of all the skincare refill formats — you're not exposing every drop of product to light, air, and moisture.
These are mostly used for mid-range drugstore brands and higher-end products. Generally speaking, these refill cartridges are around ¥1,000 cheaper than the standard packaging.

Pressed powders and powder foundations always have refill pans no matter their price points. So do blushes from mid-range drugstore brands to department store brands.
The compact case is generally sold separately — it ranges from ¥300-¥1,200 depending on the brand. You poke the hole located at the bottom of the case to remove the old pan and put the new one in. Most use removable glue to stick the pan in place.
Many brands' pans are the same size so the cases are interchangeable. CEZANNE pressed powder refills, for example, fit perfectly into Anna Sui's and Paul & Joe's powder cases.
Things To Beware For J-Beauty Refills
There are a number of things users need to beware of when using Japanese cosmetic refills.
1 / 4
Refills are made to go in original source packaging only.
There're all sorts of reasons why you might consider using a different bottle. Japanese cosmetic brands put clear disclaimers on refills that they are made to go in original source packaging only. If you opt to not follow directions and the unlikely chance a problem were to arise, all product liability is considered void.
2 / 4
No washing (unless otherwise stated).
Many Japanese instructions printed on refill pouches state that original source packaging should not be washed before refilling to avoid contamination. A lot of bottles have a small opening that makes drying in a humid climate difficult. Some also have nooks and crannies that will easily trap water. In order to avoid users unknowingly contaminating products with water, many Japanese refills instruct that original source packaging should not be washed before refilling.
The notable exception is shampoos, conditioners, and body washes — any wash-off products that are kept in the wet bathroom area where mold and mildew will easily grow. The bottle and pump should be thoroughly washed and air dry for at least a full day before refilling.
You will, of course, need to use your own best judgment — wide-mouth jars and bottles, for example, can certainly be washed without any issues.
3 / 4
Avoid reusing cosmetic packaging for refills more than 2–3 times. 
Plastic packaging intended to be used with cosmetic products isn't like reusable plastic water bottles and food containers.
In Japan, cosmetic plastic packaging isn't obligated to comply with safety regulations set out for plastic materials for food contact. EU and US are also the same.
Unless explicitly indicated otherwise, it's safer to assume that the cosmetic packaging isn't made for prolonged repeated use. The plastic isn't tested to withstand the wear and tear caused by repeated refilling, exposure to different mixtures, and high heat (i.e. using hot water to sanitise).
In order to avoid additives in compromised plastic potentially leaching into content and to maintain optimal cleanliness, Japanese companies like Shiseido and Kose advise users to replace cosmetic packaging after 2–3 refills.
4 / 4
Pay close attention to Period After Opening (PAO).
The PAO (period after open) is more important than ever with refills that require decanting. Every drop of the product is inevitably exposed to light, air, and humidity during refilling, which will shorten its life span.
Generally speaking, refill pouches and bottles should only be used for cosmetic products that you will finish quickly.

Alternate Ways To Use J-Beauty Refills
In recent years, lots of Japanese companies are coming up with innovative ways for users to use refill pouches without the hassle of decanting.
In 2017, Kao launched the Smart Holder which is designed to hold their shampoo, conditioner, and body wash refill pouches. You fit the refill in place from behind, screw on the pump dispenser, and it's ready to use. Each holder costs about ¥500 and there're a variety of limited edition designs.
Muji, Daiso, Seria, 3Coins, and other variety stores in Japan all sell their versions of refill holders with the same concept.
There is also the Raku Raku Switch which is a nozzle that dispenses a fixed amount of liquid product with one push. You replace the refill cap with the nozzle attachment and hang the refill upside down with the hook provided.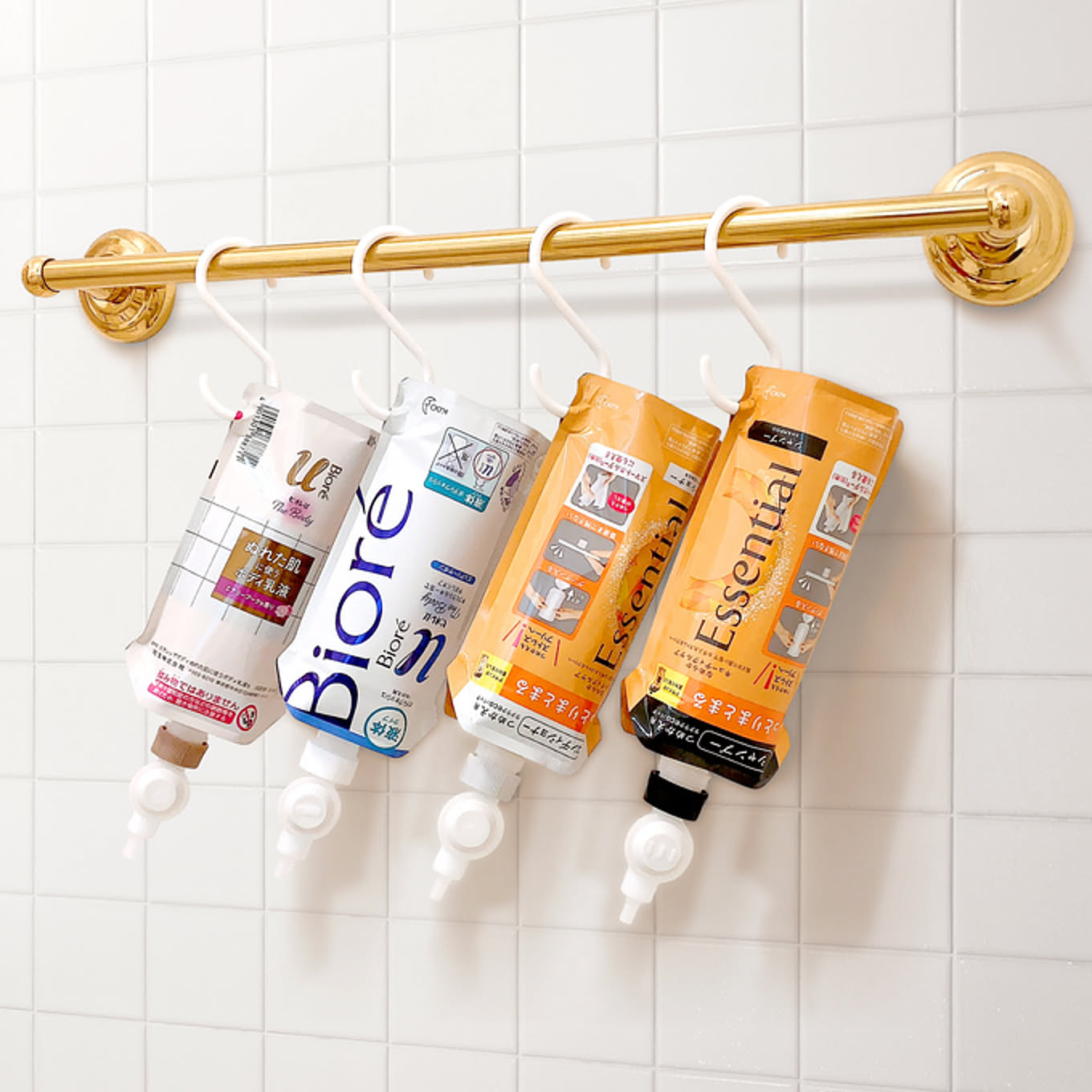 The design replaces the standard pump dispenser and it also prevents air and water from entering the pouch even while the liquid content is being dispensed.
The hook-and-nozzle costs about ¥550 in Japan but it is often sold together with the refill as a set. You can find copycat alternatives from variety and homeware stores in Japan.

Copyright: © 2021 RatzillaCosme