Club Hormone Cream was the moisturiser of choice during the pre- and post-war period. During its heyday many women raved about it, marvelling at its moisturising and repairing effects. Fast forward 80+ years and it's currently still one of Amazon Japan's best sellers in Skin Care, although I think most people are buying it now for nostalgic reasons, to satisfy curiosity, or a bit of both. Because let's be honest, old-time beauty classics that are still around appeal to nostalgia and history (which connects to your heritage) over formula and end results. Some are — to be frank — utilitarian sh*t in vintage/retro packaging.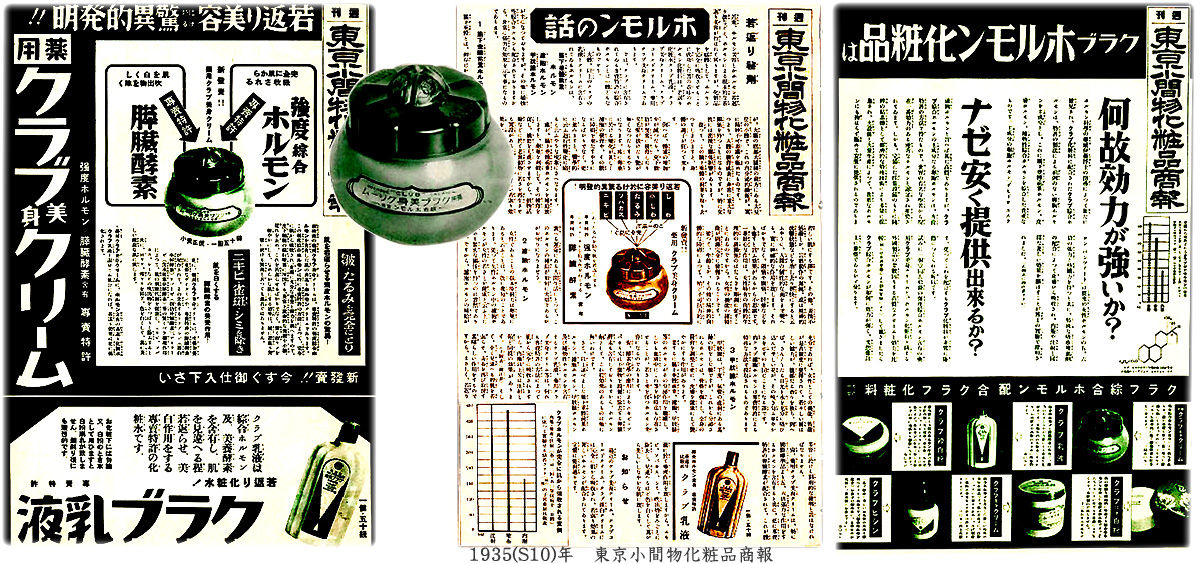 Club Hormone Cream as the name suggests, contains hormone. Synthetic estrogen, to be exact. In the 1930s Japan, it was popular in skin creams as it was thought have excellent moisturising and restoring properties. Shiseido 'Hormone Cream' released in 1934 was marketed as luxury anti-ageing cream. The ingredient has long fallen out of favour. The legal amount permitted in Japan for cosmetics use is so low that the hormone has little to no effect when used within normal reason. Meaning that I wouldn't personally worry using a small amount on my face, but slathering over all your face and body three times a day for decades might not be a good idea.
Don't let the thick, balm-like cream deceive you — it is far from buttery rich. It's surprisingly light-feeling and with a silky-slip to the application. It wouldn't sort out overly parched skin, but it's an excellent troubleshooter if you're slightly dry. It works very well as a primer, if you like to keep your routine and steps very minimal. Actually, I think it is suitable for almost any skin type if it's going to be applied around the eye area only. I have relatively normal skin on my face, but I do feel I need something a little richer around the eyes — and this works quite nicely. Creams that I could never get away with on my face work splendidly around the eyes. (I know some people wouldn't be without dedicated eye creams, but I personally think they're a waste of time and money. Gentle facial moisturisers work equally well, if not better, and significantly cheaper.)
Impressive stuff considering its formula hasn't been changed for more than 80 years! The cream does have a very outdated scent, but it dissipates. One of my friends keeps a jar of this cream around solely for its scent as it smells just like his grandma who passed away. Club introduced a new 'Mild Fragrance' version with rose essential oil for those who prefer something that smells more modern.
You can find the Club Hormone Cream at Amazon Japan HERE — it's ¥462 (international shipping via AmazonGlobal). It's also available at Amazon.com HERE for US$19.86+ and at YesStyle for US$9.90 HERE.